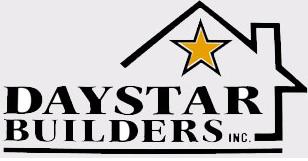 Daystar Builder's is
one of the premier custom home builders in Western Maryland and Deep
Creek Lake area. We have a long standing reputation for superb quality
and craftsmanship. Our team has been crafting custom homes together for
nearly two decades. Each and every member of our team has pride in the
homes we build. When life has brought changes, many of our customers
have returned to us when they are ready for a new home.

Our approach to keeping the construction "in house" means that there is
always consistency in quality, and that the work will flow in a timely
fasion. Our reputation to make sure our customers always get more
than they expect begins with Polysteel Insulated Concrete Form Basement
walls and flows through to the end with larger then usual molding and
trims and finished in place hardwood floors. Here at Daystar Builders
we realize that building a home can be stressful and frustrating
process. That is why we strive to make you home building experience as
easy as possible.

Our Approach…

We will first schedule a meeting to determine our client's needs and
budgets. Next we will review the site of construction to help you
determine the best design options for your home. Our team is more than
happy to work with existing house plans or we can fabricate custom home
plans with custom floor plans and specifications. Once the client is satisfied with their house plans, we will acquire all necessary building contracts and permits. Shortly thereafter, construction of the home will begin. At anytime during construction our team is available for consultation and advice.
Home Options Environmentally Friendly Options

– Custom Stick Framed Homes – Geothermal HVAC
– Polysteel Insulated Homes – Polysteel Insulated Foundations and Homes
– Hearth Stone Log Homes – Icynene Insulation